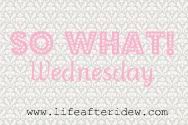 Here's what I'm saying "So What" to this week:
*if my car is 2,000 past needing an oil change. They've all be highway miles.
*if I miss being in high school. I love my life the way that it is right now and I wouldn't change anything, I just miss having my mom do basically everything for me :) and my friends
*if I thought synod assembly was totally boring
*if I hate packing, unpacking, doing laundry, and repacking
*if my house is messy, I live there alone, no one else sees it
*if I can't think of anything else to say "So What" to this week
What are you saying "So What to this week?
to see what everyone else is saying "So What" to this week!
Love, a future Mrs.