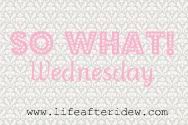 Here's what I'm saying So What to this week:
*if I made a Wedding Wednesday topic list. I needed to know that I had enough to talk about and how much I should cover each week. Yes, my list covers today through the end of the year.
*if I forgot that I had to pay my rent until I looked at the date on the church bulletin on Sunday morning and realized it was the first of May already
*if I was secretly excited to be asked to take pictures with the confirmation kids this weekend. I want them to like me!
*if I check my comments and stats before I read other blogs
*if I love trying on my wedding band with my engagement ring
*if I'm writing this on Tuesday night and scheduling it to post on Wednesday morning. Wednesdays are crazy busy!! And so what if it doesn't work the way that I'm hoping, this is the first time I've scheduled a post.
What are you saying So What to this week?
else is saying So What to this week.
Love, a future Mrs.