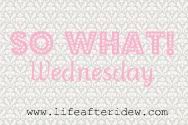 Here's what I'm saying "So What" to this week:
*if it really doesn't feel like Wednesday today. With having Monday off and having our staff meeting today (which normally happens on Tues) and I'm not going to be at work on Friday. I have no idea what day it is.
*if I hadn't given this list any thought until I sat down to write it
*if other then getting the shelves in the closet for my craft room, I have made no progress on getting the room done
*if the future Mr and I are taking engagement pictures on Saturday and I don't really know what we should wear
*if I have 5 weekends in a row of wedding stuff for other people this summer and I'm not really looking forward to it. I mean really? 4 weddings and a bachelorette party in 5 weeks. All of my weekends in July are shot (and one in June!).
*if we're only going to make it to the lake 2 or 3 times this summer. Ok, this really isn't a "so what" I'm actually really bummed about this. My parents have a lake house and I'm hardley going to get to enjoy it at all!!
What are you saying "So What" to this week?
everyone else is saying "So What" to!
Love, a future Mrs.