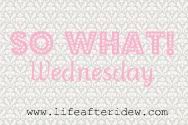 Here's what I'm saying So What to this week:
*if I get frustrated when other people don't blog regularly? Don't they know that I like reading their blogs?
*if I get giddy and excited about changing my calendar every month? I love the feeling of having a "blank slate"
*if before I bought my bathroom scale I cringed at the thought of weighing myself? Now it's become part of my morning routine
*if I'm already off track with my Wedding Wednesday schedule? I'm still talking about wedding things, I promise- I won't run out of topics :)
*if I'm hosting my first give away and I hope that it will lure more people to follow my blog? Check out yesterday's post for your chance to win!!
*if I had ice cream twice yesterday (dessert with lunch and after VBS)? Both times it was just one serving and not a whole bowl!
What are you saying So What? to this week?
everyone else is saying So What to.
Love, a future Mrs.