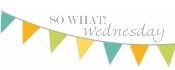 It's already Wednesday again!
Where did last week go?
I'm linking up with Shannon from
Life After I "Dew"
again this week for another edition of
So What Wednesday!
Here's what I'm saying So What to:
*if I didn't take the Christmas music off of my iPod after Christmas last year and I usually don't both to hit skip when a Christmas song comes on during shuffle?
*if I'm scared out of my mind about doing this Jr. Hi Homecoming dance next Friday?
*if I'm a night owl and not a morning person? Blame my dad- he kept me up late when I was little so that I would sleep longer in the morning for my mom.
*if I love pinterest but I have yet to create any of my own pins? I don't even know how to create a pin.
*if I keep an extra shampoo, conditioner, & mousse in the linen closet? I hate running out of those things. And lets be real- when you're already in the shower and you realize that you're out of something it's way easier to reach across the bathroom then it is to run to Wal*Mart!
*if I've been lacking with the pictures on my blog? My camera doesn't want to work with the computer at work or mine at home so I have no way to get pictures off of my memory card!
*if I ALWAYS pick my nail polish off? It's like a nervous habit and I can't stop.
*if I'm excited because I got to put my fall/halloween decorations out already?
*if I eat lunch at my desk on Wednesdays?
What are you saying So What to this week?
Head on over to
Life After I "Dew"
to see what
everyone else is saying So What to this week!
Love, a future Mrs.