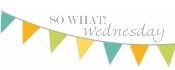 It's another So What Wednesday!
Here's what I'm saying So What to this week:
*if it has been really hard to get back into my Wednesday routine? I don't come into work til noon becuase I'm here til 9 or 10 at night, so I have the morning to do things. But this morning flew by!
*if I read blogs while I ate Subway for lunch at my desk today? A girl's gotta multi-task!
*if I had to read said blogs on my phone cuz I my computer was being s-l-o-w?! I didn't have a lot of time!
*if I made two birthday surprizes for my mom last night and I can't wait to share them with her?
*if my checkbook has less then $20 in it? My bills all got paid, tomorrow is pay day and I don't have anything I need to buy today.
*if I'm wearing a tank top, two long sleeve shirts, and a jean jacket today? When I woke up it was only 57 degrees in my house. I've been cold all day!
*if every time I hear a slow song I try to decide if it would be good for the dollar dance at the wedding?
*if I'm so excited for this weekend that I'm having a hard time getting stuff done at work?
*if I don't have time for Wedding Wednesday this week? I don't really have a lot to update y'all on.
*if I haven't done hardly any wedding related things this week? With Rally Sunday & Welcome back Wednesday here at church I haven't had a lot of free time.
What are you saying So What to this week?
everyone else is saying So What to!
Love, a future Mrs.