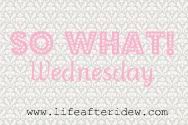 Here's what I'm saying So What? to this week:
*if I really like things to match? As in, I like to only use white 3 ring binders, plain silver paper clips, white hangers in my closet, etc.
*speaking of my closet: so what if it's organized by color? And it's according to the rainbow? It's easy to find things that way. And it got me a job, ok well not the closet by itself but the fact that I'm super organized.
*along the same line: so what if my movies are arrainged alphabetically and my books are in height order? (These are the other two organized facts about me that got me my job)
*if all day long I've wanted to go home and lay down? I had a killer headache last night/this morning.
*if I think I have the cutest Daddy in the whole world? You can argue with me, but I'll still think I'm right no matter what.
*if I pick off my nail polish?
*if I'm not looking forward to giving children's sermons again this fall?
*if I'm jealous of other churches in town that have more adults and kids involved in their youth programs then we do? It makes me worry that our church council will think that I'm not going a very good job. It also makes me wonder what they're doing or what they've got that we don't.
*if I'm scared about this fall because both of the other youth directors in town that I've worked with on projects (at another Lutheran church and the Catholic church) left their positions recently and now I have to do things on my own?
*if I'm having a love hate relationship with the fact that the weather is changing? I like fall but I'm not ready for summer to be over.
*if I felt cool when I was at the middle school today during lunch cuz so many kids said hi to me?
*if a lot of my list today had to do with work?
What are you saying So What to this week?
everyone else is saying So What to this week!
Love, a future Mrs.