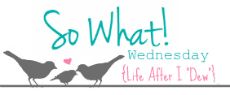 Here's what I'm saying So What to this week:
*if my emotions totally dictate what/when I eat?
*if I really can't stand Jillian Micheals? I avoid her at all costs.
*if after the Mr leaves for work in the morning I usually roll over to his side of the bed?
*if sometimes the only thing that gets me out of bed (even after the alarm has gone off...
more than once) is the fact that I have to pee?
*if I love and hate the auto correct on my phone at the same time?
*if it's taking me forever to share our wedding pictures? I'm sorry!
*if I have issues with confrontation, even if it's just over the phone and I can't see the other person? I really am a people pleaser, so I want everyone to be happy. But when I make a decision I make it for a reason- I don't really like when people question me.
*if I have the loudest clock in the world in my office? Grrr.... I can't stand it.
What are you saying So What to this week?
everyone else is So What-ing this week!
Love, Mrs. K