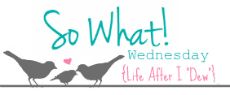 It's that time of week again!
for So What Wednesday!
Here's what I'm saying So What to:
*if I'm a night owl and the Mr is more of an early bird?
*if I made breakfast (french toast and bacon) for dinner on Sunday?
*if I didn't enter anything on my fitness pal on Sunday?
*if we got new silverwear as a wedding gift and I use the smaller or salad fork for everything?
*if we're hesitant to take the plastic off of our windows just incase it gets cold again?
*if I told myself I would clean my craft/junk room last weekend but I never stepped foot in it?
*if I don't recongize a number on my phone I usually don't answer it? Drives the Mr crazy.
*if I've been wearing sandals this week and I think it's the greatest thing ever?
*if we're running low on snacks for youth group this week and I really don't want to go to the grocery store? I know the kids won't really be happy with water, but thats what we're having this week.
What are you saying So What to this week?
is So What-ing this week and to link up!
Love, Mrs K