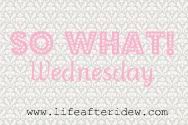 It's time for So What Wednesday again!
Here's what I'm saying So What to this week:
*if I didn't play along with SWW last week? I wasn't on my computer at all last Wednesday.
*if I hate doing dishes?
*if part of me is excited about the cooler weather that's coming? I live in northern MN I have lots of clothes that I can only wear when it's cold, I've missed those clothes!
*if I shamelessly blog & facebook about giveaways on other peoples blogs? I really want to win one! Like
this
one that Little Miss Momma is hosting. You should go check it out- it's sweet.
*if I haven't won a giveaway yet?
*if I'm going to register for wedding gifts with out the future Mr. tonight? Read my Wedding Wednesday post to find out why :)
*if I like the pinterest app on my phone more then I like the pinterest website?
What are you saying So What to this week?
everyone else is saying So What to this week!
Love, a future Mrs.