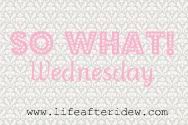 It's that time of week again!
for So What Wednesday.
Here's what I'm saying So What to this week:
*if I couldn't figure out how to get a registry printed off at Wal Mart? Maybe the future Mr's cousin won't get a shower gift from me after all...
*if last week (the last 2 weeks actually) I haven't been able to think about things to write on here? I had to force it to find things. And this week? I have post ideas coming out of my ears.
*if I hate wearing sunscreen? I'm paying for it after this past weekend at the lake.
*if all I really want to do is be a stay at home mom and run an etsy store? That would be perfect! I would love to craft all day long and hang out with my babies (when I have them).
*if I ate tacos for the last 3 meals? I had a big taco craving and when you live by yourself a pound of taco meat goes a long way- there is still some in my fridge.
*if I still havn't packed for the weekend? I'm going home either tonight after youth group or tomorrow morning... it'll get done.
*if I've been questioning my career choice lately? How do you know what you're suppose to be doing?
*if we got "permanent" name plates on our office doors and I'm going to make them change mine in 4 months? The one they put up had my maiden name on it, which is fine for now but it's not going to be fine in 4 months (& 7 days).
What are you saying So What to this week?
to see what everyone else is saying
So What to and to link up!
Love, a future Mrs.