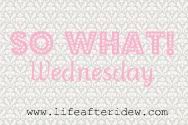 But this week she is celebrating her super cute baby's first birthday!
Srsly, go check out picutres of that babe- she's a cutie!
So I'm doing So What Wednesday on my own this week and
here is what I'm saying "So What" to this week:
*if I didn't participate last week? I was busy on our mini mission trip.
*if I only cleaned the part of my house that my youth group kids will see when then come over for our grill 'n game tonight? Those parts would include the kitchen, bathroom, dining room, & living room. Craft room & bedroom are still kinda messy (but my bed's been made!)
*if wine and cheese equals a cheap-o bottle & goldfish crackers in my house?
*if my landlord had someone come trim the bushes outside of my duplex & I think the guy she hired did a horrible job?! Srsly they look like trees instead of bushes now. Everything from eye hight down has been chopped off.
*if when I get up in the morning I need to make my bed just so that I don't get back in it and go back to sleep?
*if I havn't had diet coke since Saturday? I used to drink a can or 2 a day and I'm really trying to cut back.
*if I'm still wearing my jammies? All I've done so far today is clean & eat lunch.
*if I did fall calendar planning at church & I'm scared of this fall? I have no idea when I'm going to get all of our wedding stuff done while still getting all of my work done!! Ahh!!
What are you saying "So What" to this week?
and come back next week to see what everyone is saying "So What" to.
Love, a future Mrs.