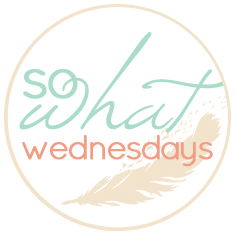 it's my favorite blog day of the week!
so what wednesday!!
linking up with
shannon
to vent about my week :)
so what...
*if this is what my closet looks like a few times a week?
i just throw my clothes there when i'm done with them...
i promise i clean it up and that i do laundry...
*if i've moved my work computer around a few time? i just can't decide which part of the desk it should be on or where i really want it.
*if i prefer golden oreos to chocolate ones?
*if this is where we've kept the excersize ball since moving in?
doesn't roll around this way
*if i've baked 3 times in the last week?
*if i only get my nails done once a month? they grow slow enough and i just get white tips so it isn't like you can see a color difference.
*if i prefer taco john's over t bell?
*if jim carrey is making me rethink my ombre?
srsly- so gross.
*if all of my #ootd pics are me & my mirror? i wish i was like
lindsay
and had someone to take my pictures
*if i use baskets to hide my mess?
*if i shut the door to pee even when i'm home alone?
*if i have to do things when i think about them or i forget about it?
*if i talk in 'so what's' all the time in my head now?
*if this was the longest so what post ever?
what are you so what-ing this week?
see what everyone else said so what to today.
love, mrs. k