linking up with some new friends today for a fun game (and because i have nothing else to talk about today!!).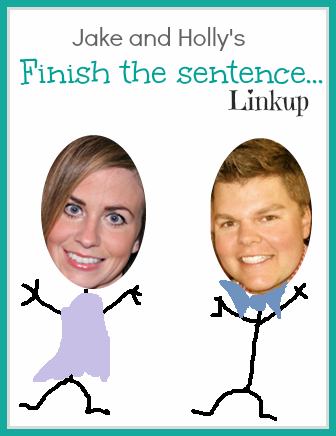 people always tell me...
you're so creative
in the movie based on my life...
i would end up marrying blake shelton, or eric church, or jason aldean, or dierks bently. basically any hot young-er male country star that can sing and play guitar.
sorry mr. k
typically, i end up regretting...
margaritas 4 and 5
i always ask to leave off the...
mayo, yuck!!
kim and kanye really need to...
come up with a creative k name for their child, why break with tradition?
my parents always remind me...
that they can't take their money with them when they die so they're going to spend it now
every single day...
i hit the snooze button on my alarm
you'd think i'd learn to just set it for later but i have really good intentions of getting up early and doing stuff. the road to hell is paved with good intentions.
this one time in college...
i told my mom all about jello shots after my first college party and my roommate freaked out. she could not believe that i told my mom about the party that i went to.
my grossest habit is...
popping pimples. i get some sort of sick pleasure out of it.
i even pop the mr's sometimes.
sharing it with you makes it seem more gross. i'm sorry.
my latest white lie was...
yea, unpacking is going great
i know all the words to...
the intro to law & order SVU dun dun dun
when i grow up i want to be...
famous, i wanna be in movies
not really. but i would like to be remembered for something cool.
sexy time...
didn't happen at all this week. sorry mr. (and mom. and grandma.)
that's what happens when you live in different towns for a period of time.
i will never, ever...
understand hardcore rap or screaming music. what's the appeal?
i think it's hilarious...
when people take themselves to seriously
love, mrs. k