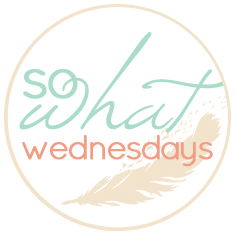 it's my favorite blogging day of the week again!!
here's what i'm saying so what to this week:
*if my craft room isn't unpacked yet? the kitchen, the bedroom, the bathroom, & the closet all are
*if we're still 'missing' things in our move? i know that the remote for the bedroom tv got packed somewhere! i just can't find it now.
*if i had a mini meltdown after my first day at my new job? that's ok... right?
*if my office hasn't been unpacked yet either?
*if i'm super pumped to have a target, hobby lobby, & joann fabrics in the same town i live in?
*if i'm also super pumped that i drive past two holiday gas stations on my way to work & there's a third just past my new church? hello fountain diet coke everyday!!
side note- how redic is that there are 3 holiday stations, actually 4 cuz there's one just on the other side of our apartment too- within a 3 mile radius. for dumb.
*if i've used almost all of my phone battery the past two days?
*if i've found myself wondering if & hoping that this move was the right thing for us?
*if i really feel the need/itch to make something? my craft room has been packed up for more than two weeks and i'm missing it!
*if i'm pumped that we have laundry IN our apartment?!! no more going down to a creepy basement to do it :)
*if i haven't had dinner before 7:30 pm the last 3 nights? and if i had popcorn for dinner last night?
*if all of my 'so what's?' today have been about our move?
what are you saying so what to?
see what everyone else is so whating!
love, mrs. k