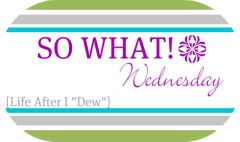 It's that time of the week again!
for another edition of So What Wednesday
Here's what I'm saying So What to this week:
*if I jump just about every time the phone rings at work? It's loud and it doesn't ring very often.
*if I'm going to my parents house today for Thanksgiving, I'm leaving at 1 o'clock this afternoon and I didn't pack until 11 o'clock last night? And I'm taking laundry home with me?
*if I wish we weren't still getting RSVP cards back? Can't people read and send them in on time?
*if I STILL don't understand things about my iPhone and I STILL haven't loaded my music onto it? I know how to do the things that I need to do and I have Pandora.
*if I've had a really hard time focusing on work this week? It was a long working weekend and it's a short week. All I can think about is laying around my parents house all weekend!!
*if I'm really excited for the Macy's Thanksgiving Day Parade tomorrow?
*if I'm not really excited about have two Thanksgiving celebrations at the same time tomorrow? I'd really like to just enjoy the day and not have to rush from place to place or worry about who we're not seeing.
*if I have no idea what to do with all of the gifts that I got from my showers? I seriously have no where to put them in my house. And in 2 1/2 weeks we're going to get wedding gifts and I'll have no idea where to put those. Right now, the spot where the Christmas tree should go is full of gifts. The dining room is full of gifts and other wedding stuff. There is wedding stuff strewn about the living room. My house is seriously being taken over. I can't handle it.
*if I want to go back to kindergarten so I can nap everyday?
What are you saying So What to this week?
else is saying So What to this week!
Love, a future Mrs