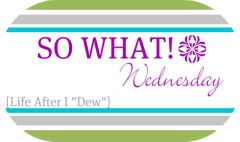 for So What Wednesday!
Here's what I'm saying So What to this week:
*if I agonize over changing my blog backround event though it's super easy to change if I don't like it?
*if it drives me crazy when the inside and outside of houses don't match on tv shows or in movies? It also bothers me when hallways or rooms on the inside of buildings move to fit the story line. This probably comes from being the stage manager for drama productions at my high school, huh?
*if I find Kelly Ripa annoying? Don't hate! There are probably people that bother you that I like!
*if we only had 3 kids show up at our lock in on Friday and we spent most of the time watching movies?
*if I can't stand HSN commericals and my cable provider shows them all the time?!
*if the food network never fails to make me hungry?
*if the future Mr is having his bachelor party this weekend and I'm worried that it won't happen? His brother has been slow at planning and really doesn't have a whole lot nailed down yet...
*if I still haven't found a parent to help drive to the middle school gathering on Friday? Or if I still don't have enough people to help work at the Thanksgiving dinner on Sunday? It's Wednesday- church will busy tonight, I should be able to find help... Right?
*if I'm looking forward to January because my life might slow down a little bit? Isn't that terrible that I'm wishing away time? I know when I'm 70 I'll regret that.
What are you saying So What to this week?
everyone else is saying So What to this week!
Love, a future Mrs