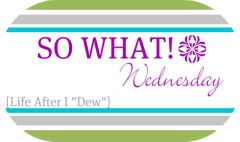 Ahhh! Wednesday is here already!
again for another So What Wednesday!
Here's what I'm saying So What to this week:
*if I've only blogged once since last weeks SWW?
*if I'm just like Kayleigh who is guest posting on Life After I "Dew" today and I pick at my nail polish all the time? I love to see how big of a piece I can get off at once...
*if I can't decide what necklace I want my b-maids to wear? Or what I should make for them? Or if I should just buy something? Ugh...
*if I am getting married in one month and one day?!?!?! I can NOT believe that it is so close!
*if I didn't do a Wedding Wednesday last week? I didn't have a whole lot to talk about.
*if I was really bummed on Sunday morning when my bridal shower and bachelorette party were over? And then I was even more bummed when I realized that the wedding will be shorter then those to parties were?
*if I swapped cars with my dad cuz mine has to go to the "car doctor"? And I like my dads way more? Like seriously- I don't want to give it back, it's amazing.
*if I love that my daddy is still willing to take my car in to get it fixed for me? The future Mr doesn't love that so much...
*if I'm super excited for scarfament? My "partner" is a woman named Sarah from New York (the state, not the city) who dabbles in Youth Ministry. My name is Sarah and I do youth ministry! How cool is that?? But she's married, she's a mom, she homeschools & she owns a beautiful old house. I'm not there yet...
*if I get a footlong sub from Subway on Wednesdays so that I can have it for lunch and dinner? I don't really have a lot of time to run home for dinner on Wednesdays between youth group and confirmation!
*if this was a kind of long, kind of random So What Wednesday?
What are you saying So What to this week?
else is saying So What to this week!
Love, a future Mrs