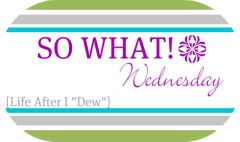 Welcome to birthday month! Whoop whoop!
1st SWW for November
Here's what I'm saying So What to this week:
*if I only eat the things I like in Chex Mix and leave the rest for someone else or throw it away? This mean that there are lots of brown chex and pretzels left for other :)
*if there is a pile of socks next to my bed? I kick them off once I'm warmed up in bed but before I fall asleep, I just kick them right out the side and for some reason I have a hard time remembering to put them in the laundry basket in the morning
*if I'm going home tomorrow for my bridal shower and bachelorette party and I haven't packed anything? I hung up the two dresses that I'll be wearing this weekend so they won't be wrink-ly
*if I can NOT tell you how excited I am for this weekend?? It's seriously going to be the best weekend ever!
*if I get bored in the tanning bed? 15 mins is a long time to lay there and do nothing
*if I am shamelessly plugging yet another give away?
You should go visit Kristin over at
First Name Smith
and check out the give away she's hosting today to kick off birthday month. Woo-hoo! We share our birthday month!
*if I some times question if this is the right job for me? I wonder if this is really what I'm suppose to be doing. I'm not sure what else I would do but somedays this just doesn't feel right.
*if I wear the same necklace every day? It's pretty and it's just silver so it matches everything. And it has a cross and a heart on it so it's meaningful too.
What are you saying So What to this week?
else is So What-ing this week!
Love, a future Mrs