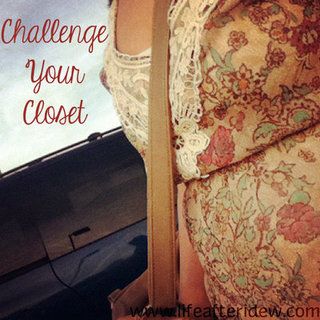 I'm linking up with the lovely
Mrs. Dew
for a little Challenge Your Closet today. Shannon and I are taking a little different approach to this but it should be fun anyway :) Each week she is sharing a different 'style' with you- this week she is rocking maxi dresses. Here is what I'm doing:
First of all I had to wait to link up because I had a few more things on my fall list that I wanted to add to my closet- and I wanted to be honest in this challenge, no shopping for this girl. Here are the last few things I wanted:
An oatmeal colored cardi from Target, a black cardi from Target, knock-off Toms from K-Mart, an orange striped shirt from JCP, a plaid shirt from Target, and my first pair of colored skinnies!!
Then I decided to really challenge my closet because I had no where to put my new finds! Really:
Not sure what's going on with the left picutre but as you can see my closet is full! And that isn't all of my clothes:


The ones on the bed are the ones that I didn't have hangers for, the ones on the floor are pjs/gym clothes/sweats & comfy clothes, then the drawers are in place of a dresser for undies, socks, tanks, white t shirts and swim suits. So yea, I have a lot of clothes.
But! By challneging my closet I went through and got rid of everything that doesn't fit or that I don't wear anymore:
That wasn't all, the pile continued to grow.
So now I'm challenging myself to actually wear the things in that pile that fit. Uff-da.
Here's what my closet looks like now:
Look at all of that space!!
And here are the outfits that I wore this week:
Wednesday- 1st day of youth group and such at church this fall.
Thursday- Had to wear my new sweatshirt :)
Pink tee- Gap; sweatshirt- made by me; jeans- Maurices; shoes- Bongo from K*Mart
Friday- supporting our local sports teams, rocking the blue and gold. Super hard to wear this when the football team was playing the high school that I went to! Wanted to wear red & white so bad!!
white long sleeve tee- Vanity; blue cardi- Nordstrom Rack; yellow scarf- no idea; jeans- Maurices; sparkly tennis shoes- American Eagle
Saturday- morning meeting with confirmation guides and lunch with a friend. I will wear this outfit again for sure! Thanks pinterest!!
white tee- Wal*Mart (5 packs from the men's dept); cardi- Target; red scarf- no idea; blue skinnies- JCP; leopard flats- Burlington Coat Factory
Sunday- I wore jeans and one of the tshirts from our church trip cuz the kids talked about our experience at church.
Monday- home with a migraine all day, didn't get out of my jammie's, nothing picture worthy
Today- comfy cardi cuz it's chilly here
Green long sleeve tee- Vanity; cardi- Old Navy; jeans- Maurices; shoes- Bongo from K*Mart
What are you wearing this week?
Love, Mrs. K