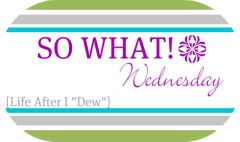 Where did Wednesday come from this week??
I'm hooking up with the hostess with the mostest Mrs. Dew
Here's what I'm saying So What to this week:
*if it didn't dawn on me that empty wine bottles would float when I tried to soak a bunch of them in my bathtub last week to get the lables off?
*if I was the only one that took notes during our large group time during our pre marriage retreat this past weekend? During our first break out session when it was just the future Mr and I, I asked him if he was embarassed by me. He said no. Good answer hunny, good answer :)
*if I always check my phone when I hear a ring tone or a text tone that sounds remotely like mine? Even if it was the same guy/phone over and over at dinner the other night?
*if I love watching unsloved mysteries but I had to stop watching them cuz I let myself get freaked out?
*if I think Elliot Stabler from Law & Order:Special Vitcims Unit is hott??
And so does my mom?
*if I went to both groceries stores in town yesterday because they had different things on sale? And then I ended up spending $100 between the 2 stores?
*if I had spaghettios for lunch yesterday? See above post- I spent $100 at the grocery store, I obviously had NO food at my house!
*if I'm starting to freak out about the wedding? It's only 45 days away...
What are you saying So What to this week?
everyone else is saying So What to this week!
Love, a future Mrs.