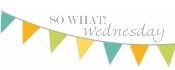 Here's what I'm saying So What to this week:
*if I haven't blogged in a week? It's been a long week!
*if I have to stop myself from listening to the songs that will be played during the wedding and the songs that I will dance to with my dad and my future Mr? I want them to be really special and I feel like when you listen to a song 100 times it isn't as special.
*if it's hard for my to be really open and honest here on my blog? I almost always think twice about hitting "publish".
*if I am over the moon excited for this weekend?!? I can't wait to tell you all about it!
*if I wrote three posts today (Tuesday)? I'm a youth director- Wednesdays are crazy busy, I don't have the time to blog.
*if I made to do notes and SWW notes on my phone? I'd forget them otherwise!
*if sometimes I think my future Mr's family is a little weird? I'm sure people think my family is weird more often then not.
*if I really want to give my b-maids this necklace but I'm not sure if I want to fork over $30 per b-maid for a gift?
I made earring for them that have a blue bead, a pearl and a green bead so this necklace would match. But I just don't know if I can do it. $30 a piece adds up fast. But it's so pretty!! And it would look so pretty with their dresses!!!!! And I love the vintage pearl!
What do you think? What an appropriate amount to spend on a b-maid gift?
What are you saying So What to this week?
else is So What-ing this week!
Love, a future Mrs.