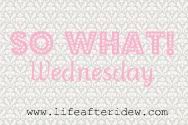 Here's what I'm saying "So What" to this week:
*if I'm sick of hearing about the royal wedding...
*but I still want to watch it
*if I'm slightly relieved that I don't have to do junior high youth group this week (we have confirmation pictures right in the middle of it), after the last two weeks I need a break from that group
*if watching "Say Yes to the Dress" is way easier now that I have MY dress :)
*if getting packages in the mail totally makes my day! Thank you Old Navy and Alloy (pictures tomorrow)
*if the fact that my dad is paying to fix my car makes me really happy and I think it's totally normal for him to fix my car even though I'm 24 and I've lived on my own for a year and a half. It totally bothers my future Mr.
*if I found an idea on another blog for youth group next week:
How cute are those bracelets?
And how great is this cause? To send these handmade bracelets to orphans a world away as a sign of love.
Thanks to Ashley at
for the inspiriation!!
What are you saying "So What" to this week?
everyone else is saying "So What" to.
Hope you're having a great day!
Love, a future Mrs.