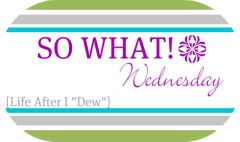 for another addition of SWW!!
Here's what I'm saying So What to this week:
*if this is going to be long than normal- I didn't So What last week!
*if I've had wedding brain for the last 2 weeks?
*if our Christmas tree isn't fully decorated yet & I can't seem to remember to get more ornament hooks or paper clips to finish it?
*if I already feel like I need a new project? Wedding projects took up all of my time for 10 months...
*if I moved stuff from one closet to another in our house and I lost a shoe?
*if I wish I was the same size now as I was in college and I thought I was big then?
*if I prefer pinterest on my phone (when it actually works) to pinterest on the computer?
*if I sometimes wish I was a nurse just so I could wear scrubs everyday?
*if I love looking at baby clothes and have even thought about buying some even though the Mr and I aren't having babies anytime soon?
*if I wish it would just snow already? It's the 14th of December and it's 35 degrees and misting out in northern MN. Something is wrong here...
*if I get paranoid sometimes that people are talking about me?
*if I laugh on the inside when other people make grammer mistakes? Please don't laugh at mine, I know that I make them too.
*if I want a do over of my wedding day? I wouldn't really change anything but I'd love to do it again!!
*if I'm not back into the swing of work yet? And I'm not sure when I will be? With the wedding then Christmas, then New Year's, then our honeymoon... They're lucky I'm even in my office.
*if we booked flights for our honeymoon last night but other than going to Disneyland we have no idea what else we're going to do in southern Cali for a week. No plans at all- any suggestions?
*if I constantly check facebook to see if anyone else has added wedding pictures yet? I love looking at them!
What are you saying So What to this week?
else is saying So What to this week!
Love, Mrs. K