It's Wednesday already?
Time to link up with
Shannon
again!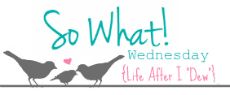 Here's what I'm saying So What to this week:
*if I'm feeling completely ovewhelmed by my office? I'm going to be out of the office for the next two weeks and it's super hard to get everything ready to go especially when it's the start of the school/church year...
*if I cut up all of my meat before eating any of it? Like when we grill chicken breasts I'll cut mine down the middle/thickest part to make sure it's done then I'll cut it all into pieces that are small enough to eat then I'll eat it. My mom makes fun of me for this.
*if I watch the Kardashians so much that the Mr kind of has an idea of who's who and whats going on?
*if I hate when people park in front of my sidewalk, the one that goes from our house to the street? Seriously! You want to walk up the sidewalk when you park there so why would you park your car right in front of it? Then you just need to walk around your car and through my grass (or snow in the winter...) Dumb.
*if I prefer fountain pop to bottled or caned? Yes, there is a difference.
*if I think I'm going to re-read 50 Shades?
*if I wish someone would pay me to live at the lake all summer?
What are you saying So What to this week?
else is saying So What to and to link up!
Love, Mrs K