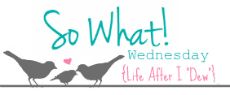 Here's what I'm saying So What to this week:
*if I want to go back to school shopping? I loved getting new clothes and I love the office supply section of Target
*if I wish people would lable thier facebook pictures? Or at least the album and not just the date.
*if I can never remember how to make chocolate chip cookies? I always always always have to read the back of the bag of chips to make them.
*if when I go home from work in the afternoon I like to have an after "school" snack just like I did when I was little? It's usually crackers and cheese or fruit snacks :)
*if
Meg's blog
makes me want to visit Colorado in the summer? I've been there lots of times in the winter but never in the summer- it's so beautiful!!
*if some days I feel like I just need to craft something?
*if I haven't done a project in the craft room since early in June?
*if our new upstairs neighbors make me want to move?
*if I'm super excited for high school weekend at the lake cabin this weekend?
What are you saying So What to this week?
is So What-ing and to link up!
Love, Mrs. K