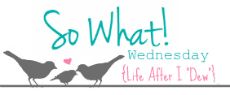 for another So What Wednesday!
Here's what I'm saying So What to:
*if I'm having a hard time falling back into my schedule/routine? I spent most of June at Bible camp with kids and most of July on the National Youth Gathering trip. I don't know how to just be in my office any more!!
*if I finally went to
MyPublisher
and made a wedding book? I know, I know, we got married 8 months ago... Whatever.
*if I totally have
WE Fest
brain? I mean, how would you feel sitting at your desk today if you knew you were going to get to see all of these people this weekend?
*if the Mr and I are leaving for Hometown, MN after work today and I haven't packed anything yet? My lunch break is good for something, right?
What are you saying So What to this week?
else is So What-ing and to link up!
Love, Mrs. K