quick note before we get started today- this is my 400th post!! whoop whoop!!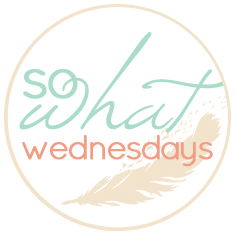 linking up with
shannon
for another go round.
i love this link up :)
here's what i'm saying so what to this week...
*if i didn't really make the bed (i just put the sheets and blankets back in about the right spot) on monday and i didn't do it until almost 10 pm?
*if i spent monday afternoon at the pool instead of work & i didn't wear sunscreen? i'm a rose-y red color & i'm paying for it now.
*if since monday I've tried to figure out a way to spend afternoons at the pool and call it work?
*if i haven't really cooked anything since thurs? we spent the weekend in hometown, mn which included lots of eating out with my parents. i guess i did make potato salad on sun afternoon for father's day dinner. i'm sure the mr thinks i'm an awesome wife.
*if i haven't cooked but i did bake cookies yesterday for the mr's lunch? he requested white choco macadamia nut because another guy at work loves them but he doesn't have a lady in his life so he has to buy them at the store. for a split second i thought the mr was going to be a nice guy & share with him. nope, he just wants to rub it in the other guys face. nice guy, huh?
*if we're going to the lake (either hometown, or the cabin) every weekend this summer?
*if when i buy things online i sometimes put them on my credit card so the mr doesn't know right away? not healthy, i know...
*if i made two 4th of july wreaths because the first one was to big? come back tomorrow to learn how to make the smaller one!!
what are you saying so what to this week?
head on over to
life after i 'dew'
to see what everyone else
is so whating and to link up!!
love, mrs. k