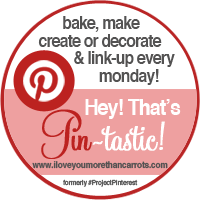 linking up with
AP
for another round of 'hey! that's pin-tastic!
this week i'm doing a flashback of pinterest projects from our wedding because
TODAY IS OUR ONE YEAR ANNIVERSARY!!!
side note- how long are we considered newlyweds? i'm thinking that i may need to rename the blog... i can't write notes from a newlywed forever, can i?
back to pinterest projects from our wedding:
**warning!! super picture heavy!!**
earring for my bridesmaids
necklaces for my bridesmaids
shoes for my bridesmaids
covered in glitter- i'm sure the janitor at my parent's church was super pleased with me :)
our thumbprint guest book- now hanging on our living room wall
we didn't see each other before the ceremony but we did take a picture together
the unity candle- just added the ribbon
alex's here comes the bride sign- his grin just kills me
hope you had a 'ball' at our wedding bouncy ball favors
to have and to hold and to keep my drink cold cozies
ok, i didn't really 'make' these but i did help design them & i ordered them :)
i didn't make anything in this pic but it's totally pinterest inspired
my bridesmaids with the sparkly champange glasses i made for them
so those are the pinterest projects that made an appearance at our wedding & reception. looking back i can't believe how many projects i did. uff da.
it was a great day and it's been a great first year. looking forward to a life with that handsome hubby of mine :)
here are some of my other favorite pictures from that day
i wore my momma's veil
my girls
my beautiful grandma
my favorite from the whole day. me and my daddy.
i love that he's holding my hand & that i'm looking at him. makes me want to cry.
this one makes the church (& my dress) look grand
i make weird faces.
pastor wade is pronouncing us as husband & wife here :)
then we served communion
kissing for the first time as mr & mrs
alex the ring bearer was uniterested :)
to see all of our wedding pictures head on over to my
facebook
or you can go
here
to view our wedding book from
my publisher
love, mrs. k
ps- did you see the great giveaway that
newlywed moments
to co-hosting?
hello?! a free iPad mini? yes, please!!