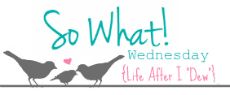 for another addition of So What Wednesday!
Here's what I'm saying So What to this week:
*if I've failed at sharing my photo a day pictures with you? I'm sorry, I've been taking them, promise. Maybe I'll just save them all for the last day of Feb/first day of March...
*if I haven't blogged in almost 2 weeks? I went to New Orleans for a Youth Ministry conference and I no longer have a lap top to take with me. No computer = no blogging. I know I could do it from my iPhone or my Kindle Fire but I don't totally undertand it and I like the control that I have on a computer that I don't get on a mobile device.
*if I got a Kindle Fire and didn't tell you yet? Again, the not blogging for 2 weeks kind put a damper on sharing the fun, new, exciting things in my life. And ps- I love it!!
*if I really missed blogging? I seriously need to figure out how to blog on a moblie device & be comfy with it. Otherwise this summer is going to be bad. 2 1/2 weeks at camp and a 10 day trip to New Orleans?? Yea, we need to figure out mobile blogging pronto.
*if the Mr and I did nothing out of the normal last night? We grilled burgers (hear shaped, so that was different) and chilled on the couch while I wrote wedding thank yous. Apparently as soon as you get married you stop doing fun things for Valentines. But at least I didn't get a fake proposal a la V-day 2010. Seriously.
Check it out here.
*if I'm not a good traveler? I really like it but my body does not. I am so exhausted. And I was in the same time zone the whole time. What gives?
*if I got dressed yesterday without thinking about the fact that it was V-day? I put on jeans and a sweatshirt. After realizing what day it was, I quick ran home after staff meeting (it's only a block away) changed into one of my V-day shirts (I have 3) and put a pink sweater on and came back to work.
*if my office is a disaster zone? I get things done and I can find things to it's ok. Right?
*if I wish I could be "snarkier" a la
Shannon
or
Kristen
but I don't really know how and I'm worried about who reads this? And, so what if I wish I had an online bloggy-bestie like those two have each other?
What are you saying So What to this week?
is So What-ing this week!
Love, Mrs. K
be back tomorrow- promise!