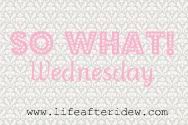 It's that time of week again!!
Here's what I'm saying "So What" to this week:
*if our save the dates are addressed and stamped and the whole works but I'm a little afraid to put them in the mail? I mean, as soon as they go out this is for real!
*if I love Wednesdays because I don't have to think of a post topic and my stats go through the roof
*if I might be addicted to Pinterest? It's great for looking for wedding flowers and hair styles!
*if I wish it was Friday becuase my high school friends are coming to the cabin? A woo hoo!!
*if my list is a little short this week? Whatever.
What are you saying So What to this week?
everyone else is saying So What to this week.
Love, a future Mrs.