I'm doing my normal Wednesday posts on Tuesday this week since I'm leaving for camp and my computer in uncooperative... Grr...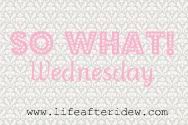 Here's what I'm saying So What to this week

*if I don't like watching Mr. and Mrs. Smith because I know it's where Brad and Angelina's relationship started which means it was the end of his relationship with Jen. I like Jen more.

*if I watched The Bachelorette last night for the first time since... May? I felt really lost...

*if I down loaded a wedding countdown on my iPhone? Way eaiser then looking it up on theknot.com

*if I have a love/hate relationship with the fact that going to camp is part of my job? I like that I don't have to be in my office and I get to hang out with the kiddos but I hate that I don't get to sleep in my bed at my house. Plus it means a lot of driving for me.

*if I can't figure things out on my iPhone? I just got it a week ago, there is a learning curve with these things.

What are you saying So What to this week?
everyone else is saying So What to this week!
Love, a future Mrs.