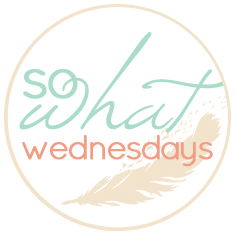 linking up with
Shannon,
you know the drill.
so what...
*if i'm forcing myself to write this before i read other blogs so that i actually write it?
*if i've been a total slacker about blogging lately? i'd blame it on summer but that doesn't seem to stop other people from blogging...
*if i haven't completely unpacked my suitcase and put it away in more than a month? when you use it every weekend it's so much easier to just leave it out.
*if i just admitted to using my suitcase every weekend? we live in an apartment, in a pretty good sized city, an hour away from where both sets of our parents live, which also happens to be in lake country. you do the math.
*if we bought a boat (did i forget to tell you about that?) a month ago and it's spent more time in the shop than on the lake since we bought it?
*if we've done lots of fun things this summer and i haven't really taken any pictures? if i didn't get all over IG and twitter does it mean it didn't happen?
*if i close my eyes when commercials come on for scary movies?
*if i like running the air conditioner enough that i can curl up under a blanket when i 'rest' on the couch after work even tho it's 85* outside?
*if i had tutti fruitti at 10:30 last night? when you're a youth director you have to hang out when the kids want to hang out.
see what everyone else is so what-ing this week.
love, mrs. k