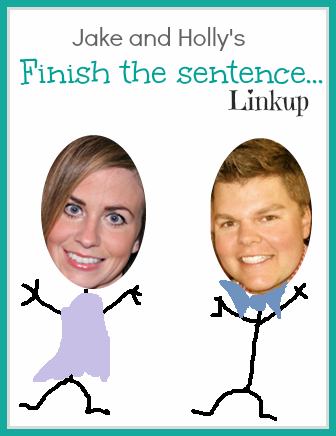 if i had one extra hour in a the day...
i would sleep. or read. or craft. or bake.
basically anything. i'd just love to have more time!
i wish my name...
wasn't so common. i love being a sarah but
i'm not the biggest fan of having so many other sarahs in the world.
i think anything chevron...
needs to come home with me! i can't get enough,
i even painted my office curtains blue ombre chevron.
my last nightmare...
i can't remember it. but i'm sure it had something to do with snakes.
or someone trying to kill me.
sometimes...
jake and holly make their sentence prompts to vague and i don't know what to say.
my last meal on earth would be...
hopefully some unidentifiable goo because i'll be old and in a nursing home and it will be all that i can eat. if i'm not in a nursing home for my last meal i'd love steak and shrimp on grill. with sweet corn on the cobb. and moscoto. and cheesecake for dessert.
i would much rather be______ than _____...
a girl than a boy. thank goodness i am.
mayonnaise...
a lot of people here this evenin'
say it out loud.
jeff Foxworthy, blue collar comedy. look it up.
10 years ago, i didn't think...
i would be married to lindsay's older brother.
that's what you get for marrying your friend's big brother i guess.
selfishly...
i like to get my hair and nails did.
my favorite show on tv right now...
do friends re-runs count? no? ok, the bachelorette, it's the only thing i've watched this summer!
george zimmerman...
has gotten way to much attention.
love, mrs. k