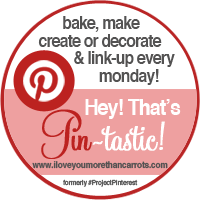 i'm finally back for hey! that's pin-tastic! with the lovely
AP from ILYMTC
this week i'm sharing all about our valentine's party at youth group.
all of my ideas came from pinterest :)
i made these cupcakes
but mine went a little like this:
it was hard to know how full to make the muffin cups- which btw are festive for valentine's too :)
they kinda looked heart shaped but not 100%
so i made sure the icing was in a heart so everyone would get the idea.
except one boy. he thought they were baked that way so they would be easier to get out of the muffin pan. which is true, they were easier to get out, but that wasn't the point.
we played this game- which is way harder than it sounds!!
i gave them a 2 minute limit and the team with the most q-tips in their bucket won.
and i gave away movie theater boxes of candy instead of red hots.
the game in action :)
we played two games from this website:
the valentine relay and the heart grab.
for the relay i cut out tissue paper hears (1,188 of them) and then the kids had to suck the hearts up with a straw and drop them in the bucket. so funny! i had them go head to head on this one and whoever got the most (out of everyone) got a box of movie theater candy.
for the heart grab we had a big bucket of red hots (regular ones- i couldn't find heart shaped ones) and atletic sock (new!). they put a sock on their hand and had to grab red hots one at a time and put them in their buckets. i had them go head to head on this one too and again, whoever got the most total got the candy prize.
the we exchanged valentines.
and, of course i needed pin-tastic valentines too!
50 homemade valentine ideas?? don't mind if i do!
i decided to go with the swedish fish and a note that said
'valentine, you o'fish'ally rock!'
the kids not think i was a witty or funny as i did.
head on over to
ILYMTC
to check out everyone's pin-tastic creations!
love, mrs. k