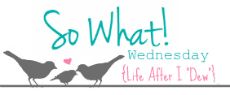 So What...
*if it's after 5 o'clock and I'm just now getting around to posting this?
*if I don't like egg yolks? Seriously, I never eat them. If I have a fried egg I cut arond the yellow part and just eat the white. If I have a hard boiled egg I only eat the white. The only time I eat the yellow part is in potato salad and that's just cuz there's enough other stuff to cover it up.
*if now that we got my craft room done I've spent hours in there each day?
*if after I posted about the great chair debate on Monday I realized how confusing my house sounds? I may have to post a home tour for you soon.
*if I need to start following new pinners? All of the ones that I follow now are wedding related so when I first open Pinterest all I see is wedding stuff.
*if I'm pumped that tonight is the last night of youth group/regular Wednesday stuff for the school year here at church? I love summer. Like, a lot.
*if I can't decide if I want to order one of those peace sign tee shirts that Shannon posted about the other day? I really like to try things on before I buy them but those shirts are cute...
*if I still don't know what my plans are for this weekend? I've been invited to 7 or 8 grad parties (I'm only going to/giving gifts to the ones that actually sent me or handed me a real printed invite- none of this facebook crap), I've been invited to a b-day/party bus, or I could go to the lake. The Mr. really wants to go home but I don't want to go to my parents house to sit there by myself. I'm sure my sister will be hanging out with he bf & his fam, the Mr got invited to a bachelor party on Saturday, my dad is going camping with his college buddies and I'm pretty sure my Mom will work all weekend...
*if I went & hung out at the middle school during lunches yesterday & today? I'm a youth director so it isn't creepy. Right? And I didn't go by myself, there were 2 other youth directors there too.
*if we started having youth director devotions on Tuesday mornings and I love them?? I love hanging out with people who are in my age group and who 'get' what I do for a living.
*if I kind of went on and on and I was really random? Sorry.
What are you saying So What to this week?
else is So What-ing this week!
Love, Mrs. K