Ahh! I can't believe I've missed 2 So What Wednesday!! I love SWW! So here I am linking up with
Shannon from Life After I "Dew"
to So What again: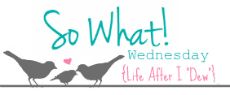 Here's what I'm saying So What to this week:
*if I put things in my "shopping cart" on different websites and then just leave them there? I go back and forth with myself for a while trying to decide if I really want them. Right now it's this jacket from Lane Bryant: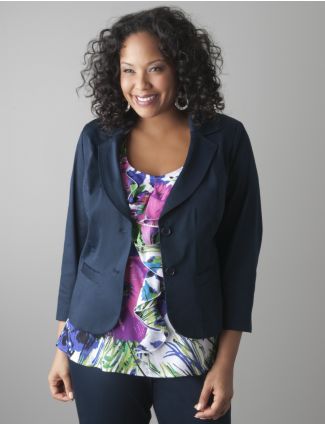 I really want a blazer that has a pattern or a contasting color on the inside of the sleeve so you can roll the sleeve up just a bit and it would look cool, but I can't bring myself to shell out $70 for a blazer...
I'm loving these two things right now:

The e-reader case and the matching sunnies case.
Perfect example of waiting too long- the sunnies case is sold out!! :(
The Pleated Poppy
is such a beautiful shop- if you've never checked it out or if you've never bought anything from her I highly recommend it.
*if I eat my sub from Subway at my desk every Wednesday while reading blogs?
*if I don't watch the view when I'm getting ready because Elizabeth bugs me?
*if I have no idea how to make a playlist on my iTunes and then transfer said list to my iPod or iPhone?
*if I play Scramble with Friends more than Words with Friends because I'm better at Scramble?
*if I wore the same outfit 2 days in a row last week just in different colors? When you find something that you like and that looks good go with it. Right?
*if last time I did SWW I forgot to link up with Shannon? Oops...
*if we forgot to hand out confirmation certificates on Sunday? Again, oops...
*if I still haven't shared all of our wedding pictures with you? I'm sorry!! If you're dying to see them you can check out my
Facebook Wedding Album.
*if I don't know what to get my mom or my mother in law for mothers day?
What are you saying So What to this week?
else is So What-ing this week and to link up!
Love, Mrs. K