First of all- what's up with this new layout on blogger? I know that they said I new layout was coming and they were getting a new look and I feel a little like all of those people that compalin when facebook changes but I'm not sure if I like this or not...
Second- I'm sorry I have negelected you for the past 2 weeks. I like you, I really do, I'm just not so good at blogging everyday. I'm trying to get better at it becuase I like to blog, I like sharing things and using this space to get my thoughts out (however deep or shallow they may be).
Third- the party you all came for:
So What Wednesday!
for another eddition of So What Wednesday!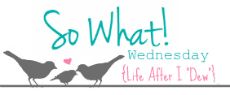 Here's what I'm saying So What to this week:
*if this is the 2nd day in a row I've had 'lazy' hair? Yesterday was a messy bun and today it's a fishtail braid. I just don't care/I don't want to blow dry my hair.
*if I never thought I'd be one of 'those' girls that blow dries her hair everyday? Srsly- in high school I used to laugh at 'those' girls...
*if I've glued my Otterbox iPhone cover back together 3 times now? The Mr did call them and they sent me a new one but they sent me the cover for the 4s and I just have the 4. It still fits and it works just fine but I don't like the new one as much. So I'll just keep glueing mine back together. (Actually since Sunday I haven't even had a cover on it!! Shocker, I know!)
*if I just recently realized that Flo' Rida (the artist- usuing that term loosely) spells Florida? Really?? So if I beccome famous I can make a name out of Minnesota?
*if I'm on the committee that's in charge of the Post Prom Party here in our Northern town this weekend and I have zero desire to go to the party or be involved at all?
*if I really want a baby? I had a dream last week that when I went to my physical on Monday my doc told me that we were preggo... didn't happen in real life.
*if I'm ready for June so school will be over and we can get onto summer programing at church? Summer is so much easier and more fun!
What are you saying So What to this week?
everyone else is So What-ing this week!
Love, Mrs. K