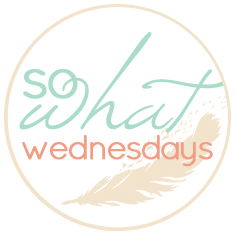 linking up with
shannon
for another go-round :)
so what...
*if i'm a sucker for a good love story?
*if i didn't stop the kids that were passing notes in confirmation last week? i was just happy that they were passing real, on paper notes instead of using their phones.
*it i can not remember my toothbush when i go out of town?
*if i had to remind the mr that yesterday was his brother's b-day? as long as the mr remembers mine, we're ok :)
*if i have to look at my #ootd pictures to remember what i did certain days?
*if i'm tired all the time? seriously, i could always sleep more. no, we're not preggo. we'd have to actually be in the same town for that to happen.
*if i went to dinner with a friend last night and we chatted for almost 2 hours? have i told you how much i love living in the same town as frinds my age again?
*if i paid for my $0.95 fountain diet coke in nickels yesterday? when you get a nickel back each day they add up!
what are you saying so what to this week?
see what everyone else is so what-ing this week!
love, mrs. k