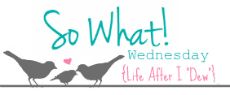 So What...
*if it's Thursday and I'm just getting around to writing this? If you've been here for a while you know that I work in a church and churches are crazy busy on Wednesdays.
*if I write my SWW list during the week when I think of things so that I don't forget them?
*if I wore my pj's all day Sunday? Seriously- I got home from church and changed into them.
*if while the Mr was gone I had chips & salsa for lunch one day and ceral for dinner another day? When you don't have to cook for someone else it's way easier to eat what you want.
*if it was super easy to slip back into my "single life" while the Mr was gone? Now, I don't mean I was hanging at the bar and hitting on hot guys. I mean, I spent entire days in my pj's, crafted on the living room floor while watching sex & the city, didn't do my dishes until the night before he came home, things like that.
*if I crafted on Sunday afternoon instead of cleaning?
*if I don't leave for New Orleans for 2 weeks but I want to start packing already? I'm already thinking of how to make everything fit into a carry on...
*if I bought 2 cds at Target on Saturday and that's more then I've bought in the past 4 years?
What are you saying So What to this week?
else is So What-ing and to link up!
Love, Mrs. K