Oh how I have missed SWWs :)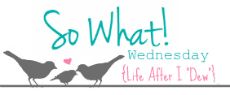 Linking up with Shannon over at
L.A.I.D
for another installment of SWW!
Here's what I'm saying So What to this week:
*if I'm a lot little excited that the Mr is going on a snowmobiling trip out west with his buddies this weekend? I know we've only been married for a month and I do love him A LOT but I'm really looking forward to a few days home by myself.
*if my sister and I made plans to meet half way to see Beauty and the Beast in 3D? The Mr doesn't want to go with me so I'm going to go with her.
*if I'm having a really hard time adjusting to being back to "normal"? It's so hard to come back to work after a vacation and right before that was Christmas, and right before that was our wedding. It's hard to not have anything else to look forward to but work...
*if I'm going to decorate for Valentine's Day this weekend while the Mr is gone?
*if I'm going to New Orleans for work in 3 weeks and I just bought my plane ticket yesterday? I was holding out for them to come down!! But the price hasn't changed AT ALL in the past month. Seriously, to the dollar the same.
*if I didn't write the second part of our honeymoon recap yesterday? I've been crazy busy trying to catch up on things here at work and I just ran out of time. Tomorrow friends, I promise I will write part two tomorrow for you (cuz I know you are on the edge of your seats waiting for it!).
*if we didn't make it to one Diners, Drive-Ins and Dives resturant in Cali like I wanted to? It was so hard to find them on my phone! Instead we just asked the people working at our hotels where good places to eat were, so we got to eat at local places that we wouldn't have otherwise found. Still cool.
*if I pouted when we didn't have snow and now that it's snowing I want it to stop?
*if I just started playing Words With Friends? Do you play?
*if I still have a Christmas backround on my blog? I can't decide what I want. I kind of like the idea of a backround that looks like notebook paper since the title is "Notes from a Newlywed" but I can't decide. Or should I just go with a white backround and a picture for a header? Or just keep changing with the seasons, sticking with shabbyblog.com backrounds? What do you think?
What are you saying So What to this week?
So What to and to link up!
Love, Mrs. K