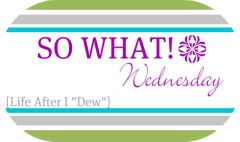 It's Wednesday again!
another installment of So What Wednesday!
So What...
*if I have been terrible at blogging this holiday season? I'm sorry friends!!
*if we leave for our honeymoon in less than 24 hours and I have nothing packed? I bought all the small travel size things... I'm part way there... Right?
*if, on the same note, we leave tomorrow and we don't have any hotels booked? We have our flights and our rental car booked. I have to call hotels this afternoon. And research Diners, Drive-Ins, and Dives locations in Los Angeles :)
*if we've been at my parents house for almost a week and I love it? I love that for the most part they take care of me. I love that thier house is comfortable. I love that my cat is here. I love spending time with my mom and dad. I love everything about being here.
*if I had a dream last night that the Mr and I moved in with my parents?
Ok... maybe it is time to go home!
*if my overdraft proection had to kick in early this morning on my checking account because I paid bills but I forgot that I changed my direct deposit from my checing account to our checking account?? Oops! The money was there, just in a different spot...
*if I've been sitting at the computer checking e-mail and reading blogs for an hour and a half now?
*if I still have a Christmas backround on my blog? The Christmas season (for the church) technically lasts until January 6th.
What are you saying So What to this week?
saying So What to this week & to link up!
Love, Mrs. K